Former Dean Makes Planned Gift to Support School of Criminal Justice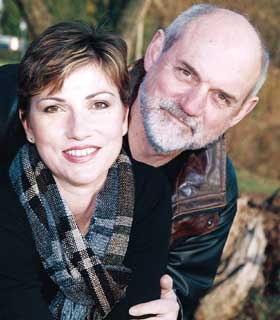 Alan Lizotte and his wife, Lisa Jackson

"UAlbany's is the first—and best—school of criminal justice in the world," says distinguished professor and former dean Alan Lizotte. He's proud of its Albany Model, which has been replicated by other academic institutions in the field. Most of all, Lizotte takes great pride in the 300-plus PhDs the University's School of Criminal Justice has turned out since its founding in 1968.
A desire to preserve and enhance that excellence is one reason why he and wife, Lisa Jackson, arranged a planned gift to support the school. The second involves a wish to ensure that School of Criminal Justice students will be able to avail themselves of the same opportunities Lizotte himself found as a college student.
"I had a perfect 1.0 grade-point average in high school," he recalls, "so my option was to go to Vietnam. I enlisted in the Navy and did a tour with the USS Jouett, picking up pilots shot down over North Vietnam, then two more tours doing harbor and river patrol."
Discharged after four years, "I couldn't go to a university because of my 'excellent' grades in high school," the Rhode Island native acknowledges. Instead, Lizotte, who'd had a few brushes with the law as a teenaged runaway, enrolled at a community college in Massachusetts. He so impressed one of his professors that she suggested he apply for admission to Brown University. She arranged an interview, and he was soon enrolled.
The experience "changed my life," he notes. In addition to getting "a free ride" at the Ivy League school, he developed an interest in crime, delinquency, and deviance, setting the stage for a career in criminal-justice research and teaching.
After completing studies in sociology at Brown, earning a doctorate from the University of Illinois, and serving as a professor at other universities, Lizotte came to UAlbany's School of Criminal Justice. Since his arrival in 1985, he's mentored 30 graduate students to their doctoral degrees. Lizotte has been involved with a multi-generational study that explores the causes and consequences of delinquency and drug abuse in urban teens and young adults. He served as dean of the School from 2010 to 2015.
"The school has been good to me and good for me," notes Lizotte, who was named a SUNY Distinguished Professor of Criminal Justice in 2016. When he and Jackson, former news director at WRGB—the CBS affiliate in Albany—began discussing their wills, they wondered "what we could do for the University and the school to encourage others to make an impact."
As dean, Lizotte had accompanied Development Officer Michael Boots on visits to prospects. "I wasn't embarrassed to ask for money," he says, adding that he "took a couple of development courses" to enhance his fundraising skills.
In fact, Lizotte was so persuasive at presenting the case for the School of Criminal Justice that he and Jackson decided to make a planned gift themselves. "I'm at the age now where I have to withdraw money from an IRA every year," says Lizotte, who turned 70 in January. The funding will go into a trust to be left to the University.
The couple strategically timed their pledge to coincide with the midway point of the school's campaign—"putting it over the top"—and with the start of SCJ's 50th anniversary. "This is the perfect time. So many things are coming together at the right moment," Lizotte observes.
© Pentera, Inc. Planned giving content. All rights reserved.
Disclaimer