The Luks Launched Scholarship to Help Students Gain Similar Life-Changing Experiences Like They Had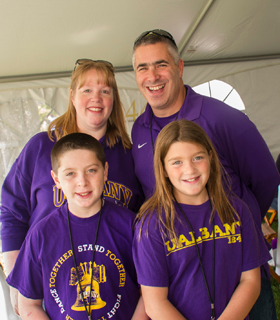 Jeffrey and Shelley Luks with their children
When Jeffrey and Shelley Luks were expecting their first child in their early 30s, they realized they definitely needed a will—and in their planning made sure to include a gift to the University at Albany. Now, 13 years later, they've been able to make an outright gift to create the endowed scholarship that their estate gift was intended to start—and can see the impact first-hand.
"When we were 30 we didn't have much money, so a gift in our will made sense," said Jeff, an active alumni volunteer. "It still makes sense."
Jeff earned a bachelor's degree in political science in 1991 followed by a master of public administration, both from UAlbany's Rockefeller College of Public Affairs & Policy. "UAlbany shaped me in two ways," Jeff said. "Inside the classroom, the master's program was awesome. Outside the classroom, I learned about myself—leadership and group dynamics."
He is the Managing Program Coordinator, Student Administrative Services with the Northeastern Regional Information Center—based in Albany and providing advanced technology services to 137 school districts. Jeff is a board member and past president of the alumni association and a member of several alumni organizations. Married for 18 years and with two children, the family is "on campus regularly."
"He lives and breathes UAlbany, and I support his passion," Shelley said.
The Luks launched their scholarship to help students gain similar life-changing experiences at UAlbany.
"We were both fortunate to have parents who were able to cover our college expenses," Shelley said. "We wanted to help someone who might not have had this opportunity."
Jeff said that he believes in the alumni association tagline: "Stay Connected. Make UAlbany Stronger." Then he added a two-word message to alumni: "Get involved!"
© Pentera, Inc. Planned giving content. All rights reserved.
Disclaimer