Grayce and Jarka Burian, Longtime Arts Supporters, Make Their Gifts Extend Beyond Their Lifetimes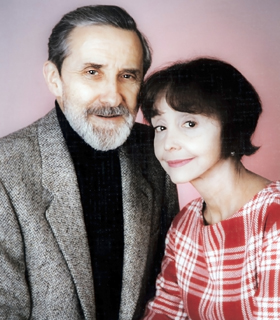 Jarka and Grayce Burian

"What a most adventurous marriage we had with our careers in theatre education and travel," Grayce Burian '63 BA, '64 MA, says of her 54 years with the late Jarka Burian, beloved theatre professor at the University at Albany. Grayce has written a memoir about it, and she recently added a bequest to her will to enhance the support for UAlbany that she and Jarka began years ago.
"This is what Jarka would have wanted," Grayce said of the added funding for five endowments to support the theatre program, the English Department, the Writers Institute, and lectures in music and art. "We saw superb growth in the theatre department. It has become well-respected."
The Burians met in 1950 while acting in an Off-Broadway show. Though they were both actors, they both went on to teach: Jarka began teaching theatre and directing plays at UAlbany in 1955, while Grayce taught community college theatre. Jarka became a world authority on Czech theatre, writing several books. Over the years the Burians traveled around the world on numerous sabbaticals and lecture tours.
Before Jarka died in 2005, they established four of the five endowments and two gift annuities at UAlbany. Grayce currently attends lectures funded by the endowments and serves on the board of the Emeritus Center; she has a message for other alumni about UAlbany: "It's here. It's important. It has to go on. Support what you believe in and what's important to you."
© Pentera, Inc. Planned giving content. All rights reserved.
Disclaimer