Glen Titan '82 'Shares the Wealth'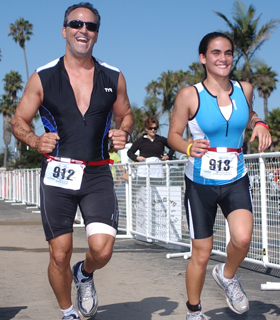 Glen and his daughter, Annie, sharing strides during the Santa Barbara Triathlon.
As Glen Titan '82 acknowledges, because of the University at Albany he is "living the dream." That dream includes completing 160 triathlons; swimming with sharks in South Africa; swimming with pink albino dolphins in the Amazon; and sitting on the beach at his home in Marina del Rey, CA. He says with joy, "Every facet of my life has been touched by my time at Albany."
A native of Long Island, NY, Glen made lifelong friends at UAlbany. His business classes, he remarks, were also fantastic. He adds that Professor Cannon's Introduction to Accounting class "made me a man! I knew if I could pass that, I could be an accountant." After receiving his BS, Glen obtained his CPA (New York and California), along with his CIMA from Wharton Business School. Currently he works as a Senior Portfolio Manager/First Vice President for Westside Wealth Management, a "Signature" Team for UBS Financial Services.
In gratitude for his professional and personal success, Glen and his bride, Monica, and their children, Annie and Luke, have established an endowed scholarship to benefit UAlbany business students on the baseball team. Additionally, Glen has made a percentage bequest that gives 5 percent of his estate back to the University. He explains: "I feel so fortunate to have had the University at Albany experience. I wish everyone could have the same experience. It was life changing, and I want others to have the same opportunity. Because of my experience, I can 'share the wealth.'"
He encourages other alumni to make philanthropic planned gifts and leave a legacy in support of future generations of UAlbany students.
© Pentera, Inc. Planned giving content. All rights reserved.
Disclaimer