Susan Shipherd's Estate-Plan Gift Will Establish Two Endowments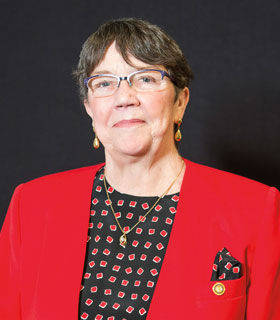 Susan Shipherd

As an undergraduate biology major at the University at Albany, Susan Shipherd, '64 BS, discovered a challenging academic program that prepared her well for careers in research and sales. She formed lifelong friendships and opened doors to new connections that have linked her more closely with UAlbany and the greater Capital Region community.
Grateful for those lasting connections and for the career opportunities her education afforded her, Shipherd has provided a bequest intention to support the University. Her donation, she explained, will be a percentage of whatever her estate turns out to be—with some of the funding used to establish The Susan Van Horn Shipherd '64 Endowment for the College of Arts and Sciences. The rest will support museum exhibitions and other programs through The Susan Van Horn Shipherd '64 Art Museum Endowment.
An interest in biology and a desire to work in laboratory research led her to apply to the University at Albany. For the Long Island native, who had attended all-girls schools for the previous several years, the greatest adjustment was "coming into classrooms with guys. I sort of didn't know how to react, but that was kind of fun."
After graduation "my first job was in microscopy at Winthrop Labs in Manhattan, reading journals and writing abstracts about any journal that mentioned drugs manufactured by Sterling-Winthrop. Then I got married and moved to Ithaca, where I worked for Cornell Veterinary School."
Over the years Shipherd conducted research at several other laboratories, including the Wadsworth Labs of the New York State Department of Health. She went on to work for Krackeler Scientific. "I called on labs that were doing research. The University was one of my accounts," she noted. Shipherd remained with Krackeler Scientific for 25 years, retiring in 2008. "I'm still friendly with some of the professors," she added, and she sometimes returns to campus to visit some of her former clients.
Shipherd serves on the Benevolent Association board and on the Dean's Advisory Council for the College of Arts and Sciences, and she's been active with the University at Albany Alumni Association for years. Though Chi Sigma Theta no longer exists, she and several of her sorority sisters who live in the Capital Region still meet often during the year. The scholarship they established continues to support students, however. Now endowed through The University at Albany Foundation, the annual award was previously presented to the relative of a sorority sister, but now any student at UAlbany is eligible to receive it. "Our recipients have been extraordinary," noted Shipherd.
Through the University's Initiatives for Women program, Shipherd set up a scholarship fund to provide financial assistance to women science majors. In the early 1960s it was rare for women to seek degrees in biology, chemistry, and the other sciences, observed Shipherd, so "it's great to see more women in the sciences." She's proud to play a role in emphasizing the importance of attracting women to the STEM (science, technology, engineering, and mathematics) fields.
Citing UAlbany as "one of the two institutions that I have the most connection with," Shipherd said her friendship with development officer Michael Boots is doubtless one of the inspirations for her decision to provide future support for the University. She was overwhelmed by Boots' thoughtfulness after her husband, RPI Research Professor Emeritus of Chemistry and Chemical Biology James P. Ferris, passed away in 2016. She also appreciates the work Janet Riker, the recently retired director of the University Museum, did to make the popular venue "a great asset to UAlbany."
Shipherd discussed her estate plan with son J.P. and daughter Jillian, "and they're fine with the fact that I've chosen to give percentages of whatever is left when I go. And I hardly buy anything, so it should be all right!" commented Shipherd.
A volunteer with Teresian House in Albany, Shipherd is on the board of directors of the Troy-based Unity House and the three schools affiliated with the organization. She serves lunch at Unity House one day a week, "sometimes to as many as 150 people." Shipherd relishes her volunteer work; "it keeps me engaged."
© Pentera, Inc. Planned giving content. All rights reserved.
Disclaimer