Two of Our Own Make an Impact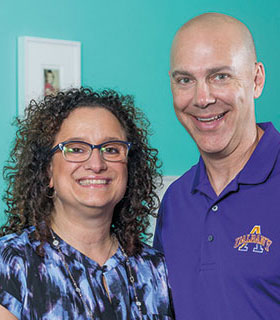 Lisa Gonzalez and Michael Boots

For Michael Boots and Lisa Gonzalez, MA'03, sustaining UAlbany's excellence and programs is a priority. Boots, a development officer at the University for 20 years, and his colleague Gonzalez, associate director of annual giving, decided to include UAlbany in their estate plans.
Each has designated a six-figure planned gift for UAlbany. Boots' gift will support the University Art Museum, the art department, and the Center for Women in Government (CWG). Gonzalez is still considering how to earmark her bequest. "We'll be executing a food pantry here in 2020; I think that's what I might designate my gift for," she says. "A study in Wisconsin noted that up to a third of college students have no money for food after paying for tuition, books, fees, and rent."
Gonzalez, who once worked at a homeless shelter, has "a social-service inclination." After graduating from SUNY Oswego with a degree in public justice, Gonzalez worked for two electronics companies. The prospect of advanced study brought her to UAlbany to enroll in the master's program in criminal justice. While completing her coursework, she met her husband, Mike Lerch.
While updating their wills recently, the couple made provisions for UAlbany. Prior to joining the development staff, Gonzalez acknowledges, "I had never heard the word 'philanthropy.' The only philanthropy I knew growing up was through the collection at church. I feel it's important to sustain the University long term and maintain access to public education." In addition to providing for the University in her will, Gonzalez gives an 1844 Society-level gift every year. In 2018 that contribution went to the NYS Writers Institute and EOP. "The Writers Institute makes sure that journalism is still relevant and not 'dumbed down'—all so important," Gonzalez comments.
"I believe in public education," says Boots. "My dad was a teacher; my brother and sister both teach."
He also believes in the arts, which he describes as "the stepchild who gets lost. There are so many students who don't have the materials they need, like paint brushes."
Boots was eager to set up a planned gift to support three UAlbany initiatives. The CWG gift honors "18 women central to various points in my life," he explains, while the art department provision will pay tribute to "my mom, dad, and stepmother."
He established The "Jack" W. and Gertrude Horan Memorial Art Museum Endowment to honor his former neighbors in Massena, New York. Though neither of the Horans was a UAlbany graduate, Boots admired Jack's talents and sees this as a fitting way to memorialize "a wonderful artist." And Boots recalls teasing "Gert" from high school on, "calling her 'my best first-grade teacher.' Of course, she was the only first-grade teacher I had. She would deliver the punch line, and we'd laugh!" he remembers. "Gert and Jack were influential in my life, and I adored both of them."
Boots—who began supporting UAlbany through the Annual Fund years ago—wants to ensure that the University and its offerings "will be here years from now." He points out that, though the donor of a planned gift will not live to see its impact, that type of support is very important. Boots urges any potential supporter who "can't give today" to "think about giving in your will. No amount is too small; you're helping by raising awareness. I tell faculty and staff that if they want to ask alumni to give, they have to be doing that themselves. It builds a much greater case for support."
Boots is especially moved by students who are the first in their families to pursue higher education. "At Commencement, when the first-generation students are asked to stand and be recognized, one-third of the graduating class stands up," he observes. Gonzalez can relate: She and her sister were the first in their family to attend college.
© Pentera, Inc. Planned giving content. All rights reserved.
Disclaimer